Start now and get the first
30 days for free

, get your hands on one of the most powerful accounting and business management systems in the world! After that you can start at $1.9/day (for the core package), and you'll see the difference that ERPMax will make in your professional life
Integrated program
it suits the nature of your business to efficiently manage all parts of the work from one place
A comprehensive accounting system
Manage accounts, checks, banks, bills, expenses, financial reports, currencies, payments, and many more
Management of companies, institutions, projects and shops
Cloud solutions for all sectors with high craftsmanship
Development and support
A dedicated team of accountants, corporate management specialists and financial experts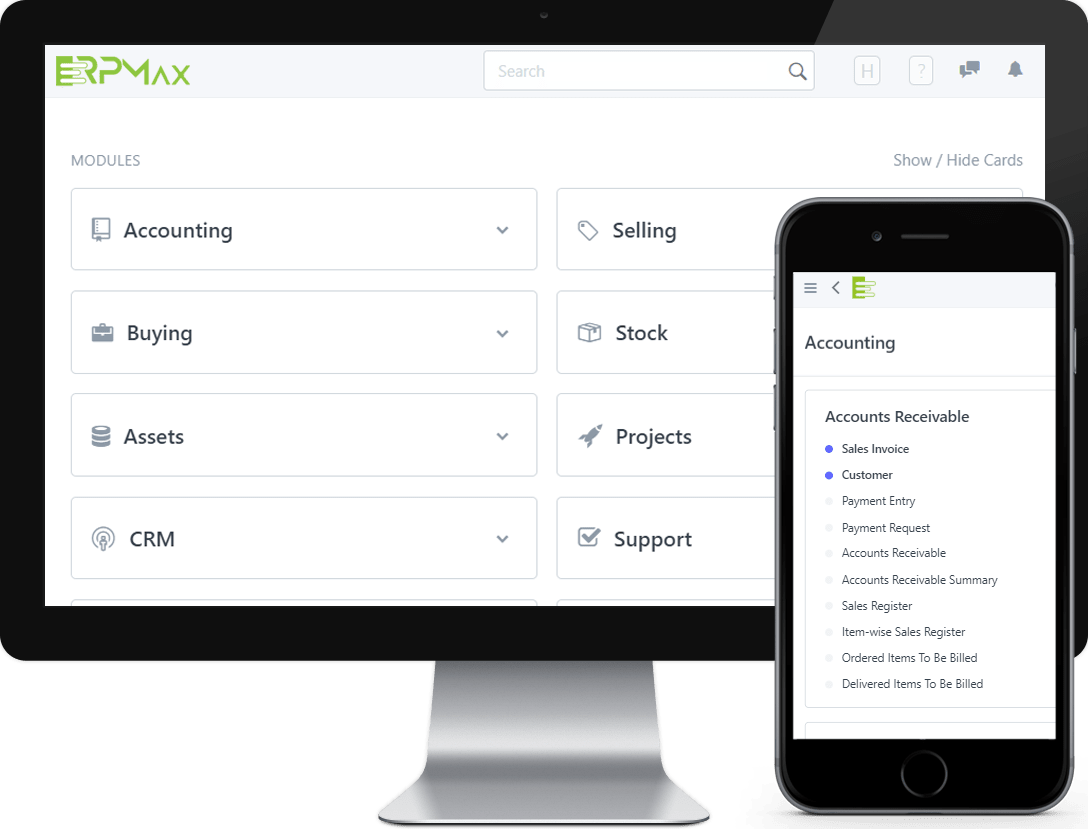 A global system that was developed to suit the needs of the Palestinian market
Large, medium and small enterprises
Factories and production lines
Wholesale distributors
Online stores
Offices and self-employment
Supermarkets, retail, stores and shops
Resturants and entertainment
Schools, colleges and universities
Health and services sector
Profit and non-profit organizations
Features and benefits you'll love in ERPMax
ERPMax was built to meet the needs of a wide range of businesses while offering an intuitive and creative user experience
A fully fledged accounting system from A to Z
Managing accounts, cheques, banks, invoicing, expenses, bills, financial reports, currencies, payments, ...
Unprecedented point of sale system for shops
Professional user interface, barcode scanning, issuing invoices, returns, exchanging, customer list, offers and discounts, changing the customer, points system, closing cash, posting bills, financial reports and many more
Sales and purchases management
Increase productivity and lower costs by managing your sales and purchase cycles, from purchase to sales orders
Production and manufacturing system
Effectively maintain and manage multilevel bill of materials, production planning, job cards & inventory.
Inventory Management
The tree structure of the stores, the different possibilities of the codes, the tree structure of the item groups, the cost of the import shipment, the number and the batch number for each item.
Human Resource Management
Manage full employee life cycle right from onboarding, payroll, attendance, expense claims, assets to separation.
Customer care system
Deliver a better service experience with an intuitive issue tracker and integrated knowledge base.
Online website and integrated online store
ERPMax comes with a fully featured content management with blogs, web pages and forms with the possibility of online payment.
Mobile
ERPMax supports all devices, from office devices to tablets and iPads to mobiles of all types and sizes.
باقة من
عملائنا المميزين

الذين اختاروا ERPMax
Headquarter Address
Al Bireh - In front of Al Bireh Municipality - Abed Al Fattah Karakrah Building - 2nd Floor
Office Phone
+970 2 296 6527
Email Us
info@erpmaxsolutions.com
Follow Us On Facebook
ERPMaxSolutions
Subscribe to get more
updates

.